Learn ceramics while having fun!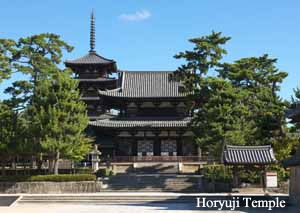 "Musubigama" is ceramics artist Kuniharu Higuchi's professionally-equipped pottery studio and an enthusiastic classroom in one. Located near Horyuji Temple in Nara prefecture, it is a homey space where you can fully experience the basic preparation of soil to advanced ceramics skills and knowledge.
We believe that art of ceramics is not only about the artistry of traditional Japanese crafts, but also a world filled with potential for fun of craftsmanship and creating forms, and imagining and developing one's ideas into something three-dimensional. We hope students can enjoy developing their skills while interacting with their fellow classmates who share the same hobby, thus "discovering and creating their new selves" through the art of ceramics. Beginners can learn the basics, and advanced students can attain the more specialized skills in a fun atmosphere.
As for events, we hold [Student Exhibitions], [Firing Experience using Anagama (cave kiln)], etc.
Ceramics Class Information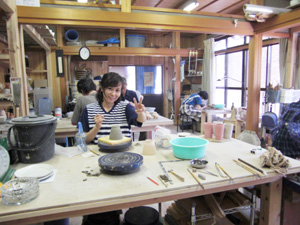 6 electric pottery wheels / 10 manual pottery wheels / 1 18-kilo electric kiln / 1 slab roller / 1 kneading machine, etc.
■Regular Courses
3 days/month 1st - 3rd week
10:00 - 16:00 Mon・Wed・Fri・Sat・Sun
17:00 - 21:30 Sat
total of 4 hours per class from the above time frame.
enrollment fee 5,000 yen
monthly lesson fee 7,000 yen (3 months prepaid)
firing fees charged separately
■One-day trial lesson (reservation needed)
day and time: on lesson days
3,500 yen (includes firing fee for 1kg of clay)
Students must be able to understand and speak Japanese.
Location
502 Kawai-cho Jonai, Kita Katsuragi-gun, Nara
TEL&FAX: 0745-73-0045
mobile: 080-5367-3657 (Higuchi)
Please feel free to call! (Japanese Only)
Students' Comments
The following are comments we received on questionnaires, written by the students of Musubigama.
It has been over 10 years since I started coming to the class. In fact, I can not imagine myself quitting this class with a kind teacher, great equipments, and fun classmates; not to mention the lenient schedule that allows us to join the class whenever we want to. Here you can take it easy and still have fun. I definitely recommend it!
It is a class with a free atmosphere, where you can make whatever work you want to make. Even if you ask the teacher multiple times about what you don't understand, he will teach you gently.
The studio is a comforting environment, and I really feel at ease here. Especially, the Friday class is always 3 hours of fun and laughter.